Pineapple Coconut Cupcakes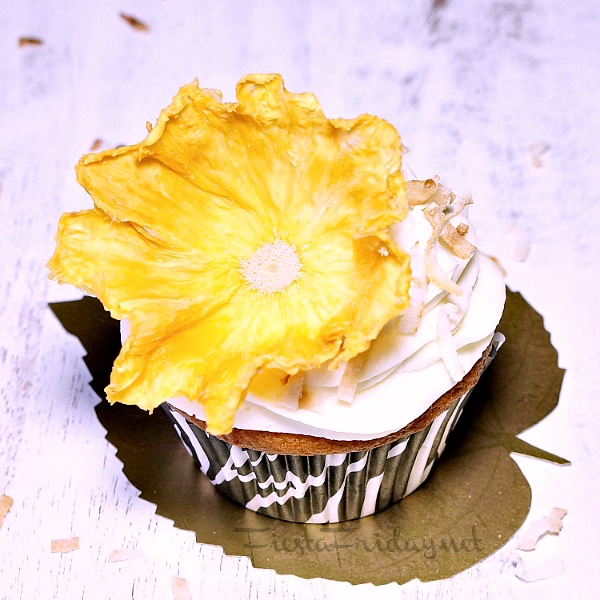 4 extra-large eggs (at room temperature), separate the yolks from the white
¾ cup + ¼ cup sugar
6 tablespoons coconut oil, in liquid form (melted)
1 teaspoon vanilla or coconut extract
½ teaspoon cream of tartar
2 cups cake flour
1½ teaspoons baking powder
½ teaspoon baking soda
½ teaspoon salt
1 can (20 oz.) crushed pineapple in juice, drained, reserving juice
The rest of the crushed pineapple and juice
2 teaspoons cornstarch
2 tablespoons sugar
¼ cup freshly squeezed orange juice (only freshly squeezed!)
1 package (8 oz) cream cheese
3 tablespoons pineapple juice
1 cup heavy cream
½ cup powdered sugar, divided
Dried pineapple flowers
Toasted coconut flakes
Heat oven to 350 F.
Combine flour, baking powder, baking soda and salt. Sift to get rid of any lumps.
In a large bowl, beat egg yolks and ¾ cup sugar with an electric mixer on high speed, until light and fluffy. Add coconut oil, ½ cup of reserved pineapple juice, ¼ cup of the drained crushed pineapple crushed and vanilla/coconut extract. Beat until well combined.
Add flour mixture and beat until well blended.
In another bowl, with clean beaters, whip egg whites and cream of tartar, on medium speed until soft peaks form. Start adding ¼ cup of sugar, 1 tablespoon at a time. Increase speed to high and continue beating until stiff peaks form
Fold egg whites into batter.
Spoon into muffin cups about ¾ full.
Bake for 20 – 22 minutes, or until toothpick inserted in center of cupcakes comes out clean.
Let cupcakes cool before filling and frosting
Mix everything in a saucepan, then heat on medium until bubbly. Remove and cool prior to using.
Let cream cheese come to room temperature.
Beat cream cheese, pineapple juice and ¼ cup powdered sugar with an electric mixer until blended.
In another bowl, beat cream until it begins to thicken.
Add the other ¼ cup of powdered sugar. Continue beating until stiff peaks form.
Fold whipped cream into cream cheese.
Use a cupcake corer or a melon baller to scoop out the center of each cupcake.
Trim the core, saving the top part to use as a plug.
Spoon about 2 teaspoons pineapple filling into each cavity. Place the "plug" piece back on the cupcake.
Recipe by
Fiesta Friday
at https://fiestafriday.net/2015/04/03/pineapple-coconut-cupcakes/