Makeover Banana Nut Muffins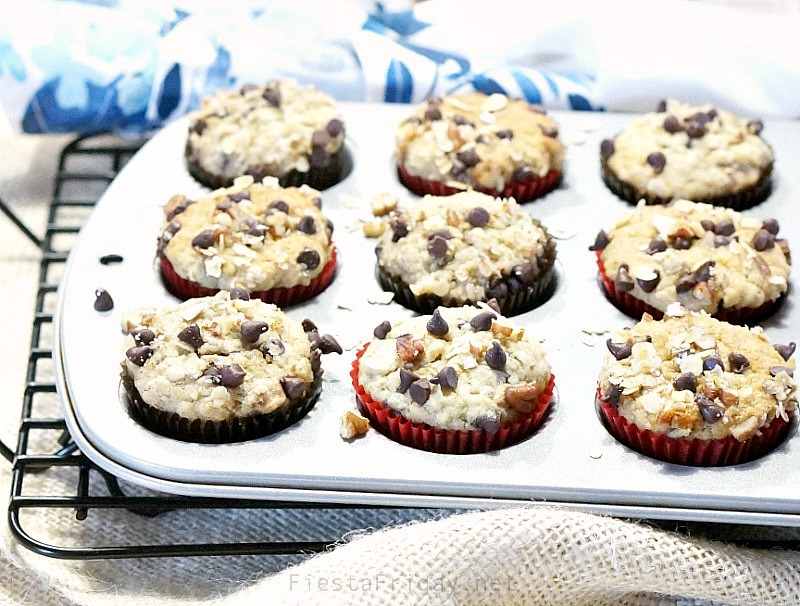 Recipe type:
Breakfast/Snack
¼ cup (1/2 stick) butter, softened
¼ cup coconut oil (solid but softened)
¼ cup fat-free Greek-style yogurt
⅓ cup sugar
1½ teaspoons stevia (about 8 packets)
1 teaspoon vanilla
1 x-large egg
1 cup mashed very ripe bananas
¼ cup buttermilk
1 cup oat flour
1 cup all-purpose flour
1½ teaspoons baking soda
⅓ cup mini chocolate chips or cacao nibs
⅓ cup chopped nuts
Extra chocolate chips/cacao nibs, oats, and nuts for sprinkling
Heat oven to 350°F
In a large bowl, beat butter, coconut oil, yogurt, and sugar until light and creamy.
Add vanilla, egg, bananas, and buttermilk. Blend well.
Mix flours and baking soda. Add to the batter and mix well.
Stir in chocolate chips/cacao nibs and nuts.
Spoon into paper-lined mini muffin cups, ¾ full.
Sprinkle additional chocolate chips/cacao nibs, oats, and nuts.
Bake for 15-18 minutes, or until toothpick inserted in center comes out clean.
Recipe by
Fiesta Friday
at https://fiestafriday.net/2015/10/10/makeover-banana-nut-muffins/