January is almost over… let's collectively breathe a sigh of relief. It's a tough month to go through, what with the foul weather, short daylight, bleak landscapes, etc.
My cooking creativity is waning under these conditions. I'm losing my cooking mojo, gasp!
No, no, no… I'm just being dramatic. I hope that'll never happen. But it does feel like I'm in a little bit of a cooking rut.
Lately, all I've managed to make are standard, and occasionally sub-standard (gasp!), soups and stews.
The husband doesn't complain – he's not a complainer – but I feel bad about it.
Last night's chicken cacciatore was pretty good, though.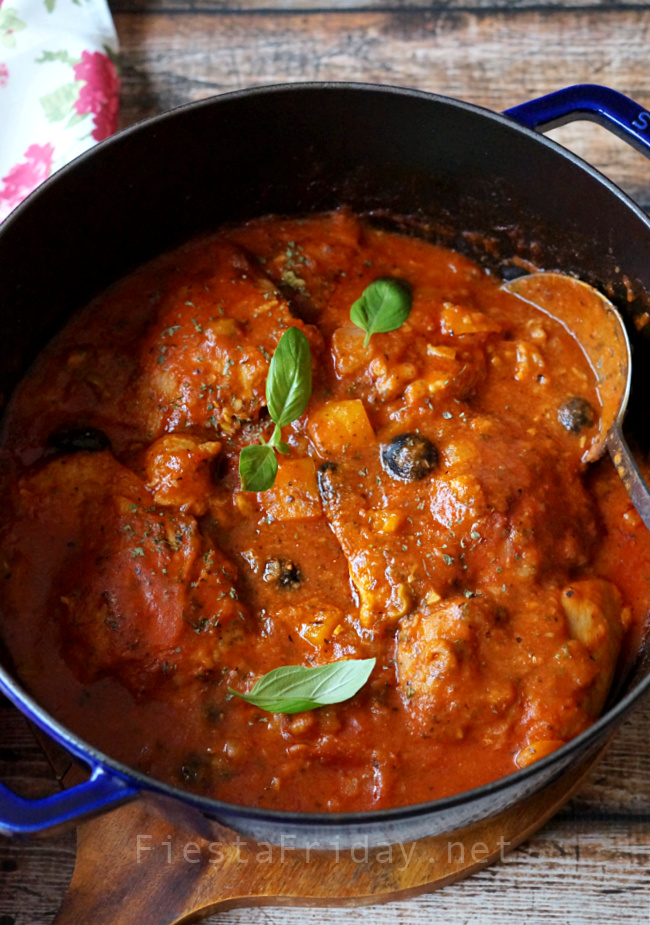 It almost makes up for the sub-standard stuff. Still, I'll be glad when February arrives. It's a short month, and then before we know it, spring will be here! Spring will awaken my cooking mojo!
And now, a few things to help awaken your cooking mojo
Baked Sushi Cups
"These sushi cups are brilliant! There's no learning curve here; anybody should be able to make them. Even for those who are more than slightly challenged in sushi-making (ahem, that would be me!) — Angie
Upside Down Cornbread
"I'll be darned… I've never seen upside-down cornbread before, at least not with onions. How intriguing!" — Angie
Creamy No-Bake Chocolate Cheesecake Cups
"Easy to make, but elegant. Will surely be a crowd-pleaser." — Jhuls
Bagel Pull Apart Bread
"I love this idea, there's plenty of flavors in one bread. Such nice party food, too!" — Jhuls
***
Now, let's party! Join Fiesta Friday #469 by adding your link(s). Don't forget to link your post to FiestaFriday.net so you can be featured.
If you're interested in becoming a cohost, please let me know.
If you're new to Fiesta Friday, please read the guidelines.
You are invited to the Inlinkz link party!