It was 50 degrees, so I went foraging and came home with this.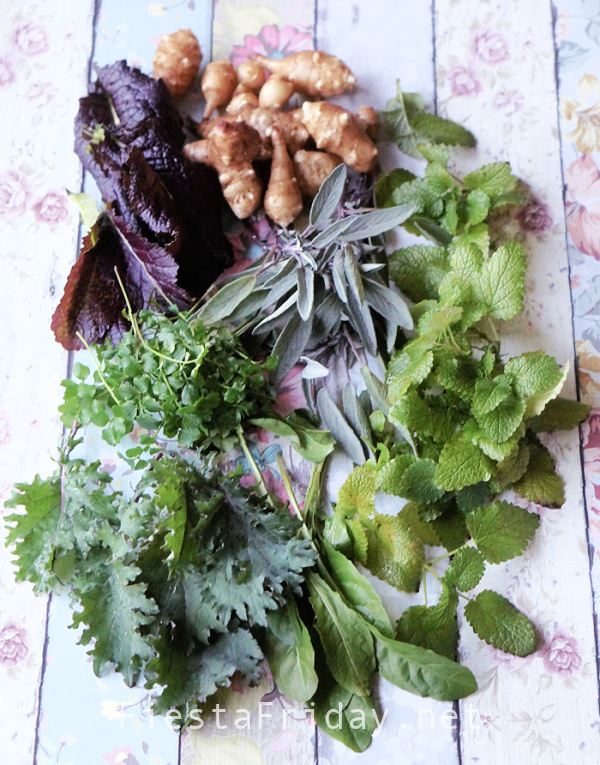 Okay, in actuality, I went to the backyard and did a little cleanup. I don't even know where I can go foraging, even though the thought is very appealing. I would love to forage, for instance, on some beachy location, where preferably some beach plums are growing, and there is no poison ivy anywhere near.
But alas, the backyard is the only option available for me. I love going to the wild corner of the yard where some plants are ignoring winter and still actively growing right now. Mostly it's inhabited by weeds, but a few vegetables and herbs have taken up residence there, too. Which was an absolute delight to find.
I think I squealed when I saw them. Good thing I was in my own yard, and alone.
Anyway, most of them will probably go into the salad bowl or the soup pot. But what to do with the sunchoke aka Jerusalem Artichoke?
Even though I know it's been growing in the backyard for a few years now, I've never thought about eating it. I'm intimidated by it. Its nickname scares me. It's also called "fartichoke" by some people. Supposedly it makes your stomach rumble. Has anybody experienced fartichoke?
Now It's Features Time!
Chocolate Log
"No Christmas is complete without the impressive Yule Log! Okay, it's not part of my family's tradition, but I've always wanted to pretend it is. Dare I attempt to make one this year? Hmm…." — Angie
Easy French Dip Sandwiches with Picante Provolone
"A wonderful new take on French dip sandwiches. I am drooling!" — Diann
Vegan Florentines
"Florentines are one of my favorites, easily in the top three of my most favorite cookies. That's saying a lot since I have so many favorite cookies. I love this vegan version from Laurena. Now I know what to give to my vegan friends for Christmas!" — Angie
BerryWorld Strawberry Meringue Roulade With Mascarpone
"For something looking so complicated, this dessert appears to cook up quickly. And, well – it has STRAWBERRIES!" — Diann
***
Now, let's party! Join Fiesta Friday #358 by adding your link(s). Don't forget to link your post to FiestaFriday.net and the cohost's blog so you can be featured.
Your cohost this week is Eff@Food Daydreaming
If you're new to Fiesta Friday, please read the guidelines.
You are invited to the Inlinkz link party!