Sometime this week it hovered close to 80 degrees. I ditched my boots and opted for the brand stinking new Cole Haan. Peep-toe low heels.
Bad decision. They pinched my feet.

Still, I walked the whole day in them, at work and after work. Bad decision! My feet were in throbbing pain later that night.
Anyway, while at the store trying to decide what to cook for dinner and ignoring the pain, I saw that round roasts were on sale. Dirt cheap! I wasn't in the mood for roast beef, but with a price that low and a pain that high, my dinner was quickly decided.
Good decision! Things were starting to turn around.
At home, I continued making good decisions. I put the Cole Haan back in their box and placed it on the highest shelf in the closet, then…I did NOT turn on the oven.
I used the Instant Pot, instead, to cook the roast, because… who would want a hot kitchen on a hot day?!
But mainly because Mollie told me to. You should know by now it'd do you no good to second guess her.
Besides, I needed to get off my feet as quickly as possible. I didn't need to toil in the kitchen any longer than necessary.
Missing the crisp brown crust of the oven roasted beef, the Instant Pot roast didn't look as handsome, but otherwise it was easy, quick, and delicious.
Especially when turned into these hot sandwiches.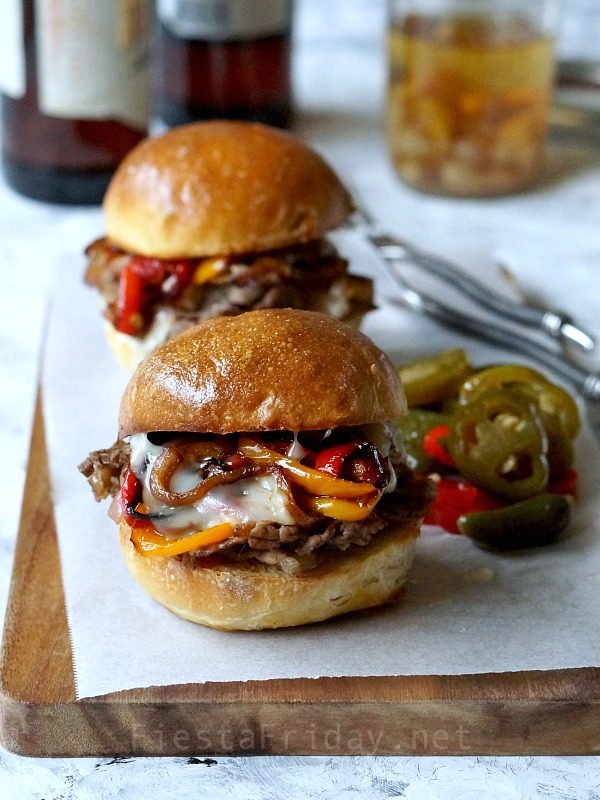 I'll be trying out more Fiesta Friday Featured Recipes in the weeks to come, people… Or months, or years to come… So many great recipes! Your recipes! That I've been hoarding all this time!
Recipes such as these:
Gluten-Free Sweet Cornbread Bundt Cake from Colleen @ Faith, Hope, Love, & Luck
"Cornbread made even better into a bundt cake with topped with sweet honey-butter glaze." — Lily
"I am so excited to try this Gluten-Free Sweet Corn Bread Bundt Cake. I don't have a gluten allergy but think I may be intolerant. I have all of these ingredients in my pantry and love the idea of adding some jalapenos to this…. we like things spicy in my house!" — Alisa
Chicken Adobo and Black Bean Tacos from Jaxx @ The Bearded Hiker
"I am so in love with this recipe because it is like you read my mind when creating this recipe. I like to eat healthy and always have one of those rotisserie chickens in my fridge and this is just what I needed to give my old standby chicken some pizzaz." — Alisa
Cookies and Cream Oreo Drip Cake from Kat @ The Baking Explorer
"Now this is a master piece and labour of love – a triple layer cake cover in cookies and cream frosting, and topped with Oreos and chocolate ganache!" — Lily
Five-Ingredient Fried Rice from Brandie @ Home Cooking Memories
"Who doesn't love fried rice? This recipe is only 5 ingredients and super easy to prepare. It's faster and cheaper than take-out, win-win!" — Lily
***
Now, let's party! Join Fiesta Friday #211 by adding your link. Don't forget to link your post to FiestaFriday.net and the co-hosts' blogs, so we can feature you. Your cohosts this week are Diann @ Of Goats and Greens and Antonia @ Zoale.com
If you're new to Fiesta Friday, please read the guidelines.
[inlinkz_linkup id=767517 mode=1]