I want you to meet Baghrir.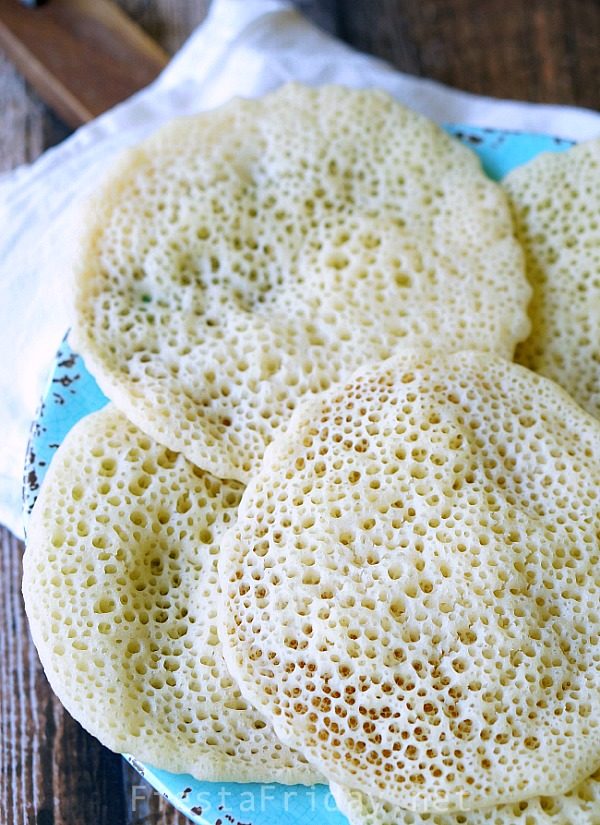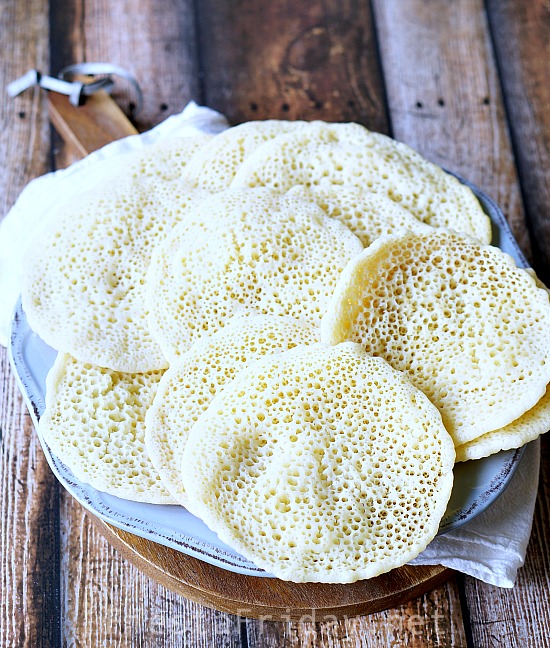 Baghrir
Baghrir is from Morocco. He is beautiful, even with 1,000 pock-marks all over his face.
He once haunted me for a whole week and a half, as soon as I laid my eyes on his arresting, hard-to-ignore, can't-get-your-eyes-off kind of look. Let's just say it was love at first sight.
The haunting ended this morning, when I finally met Baghrir in person. And it was love all over again at first bite.
It's hard not to. Fluffy and spongy, but yet chewy, baghrir will change the way you look at pancakes. It did me.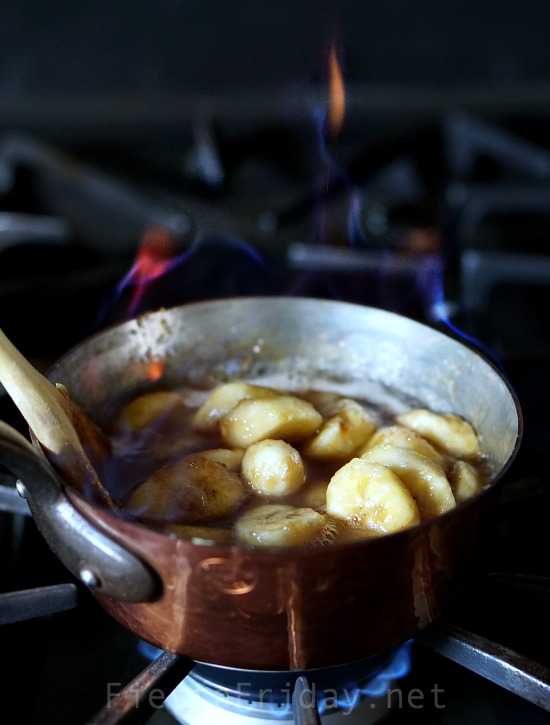 This isn't saying that buttermilk pancakes, which I'm actually quite good at making and for which my family is known to beg me for (what a brag!), don't have a place at breakfast or even dinner. But consider for a moment the possibility of cooking pancakes without flipping.
That's what baghrir is. It's an unflipped pancake.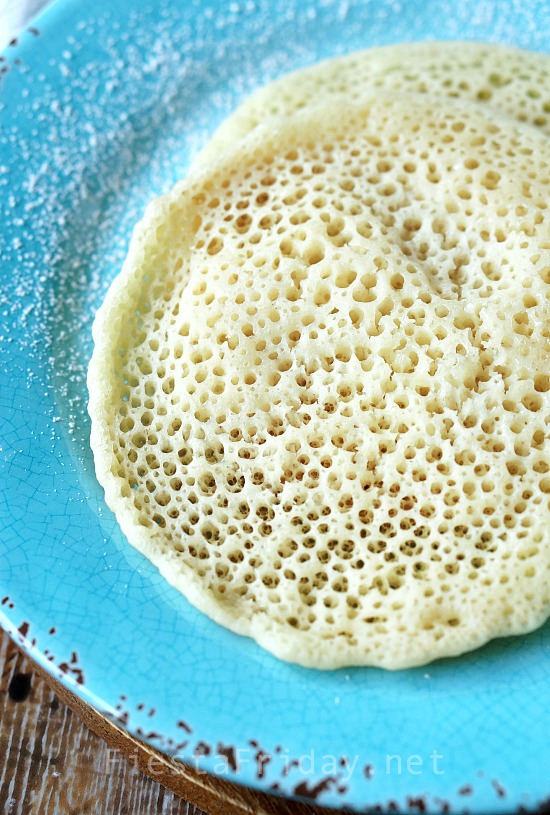 Because it's only cooked only on one side, the holes…..the haunting holes on the other side remain open as the batter cooks and dries, thereby creating the perfect vessel to soak up and absorb the melted butter and sauce put on top of it.
And that's what makes baghrir the superior pancake, in my opinion.
Did I mention that baghrir is also egg, dairy, and oil-free? Too good to be true, you say? In this case, not the case.
So, please, please, try this baghrir. You'll thank yourself after. Heck, you might even thank me!
The best way to enjoy baghrir is how it's traditionally served, with warm honey butter syrup.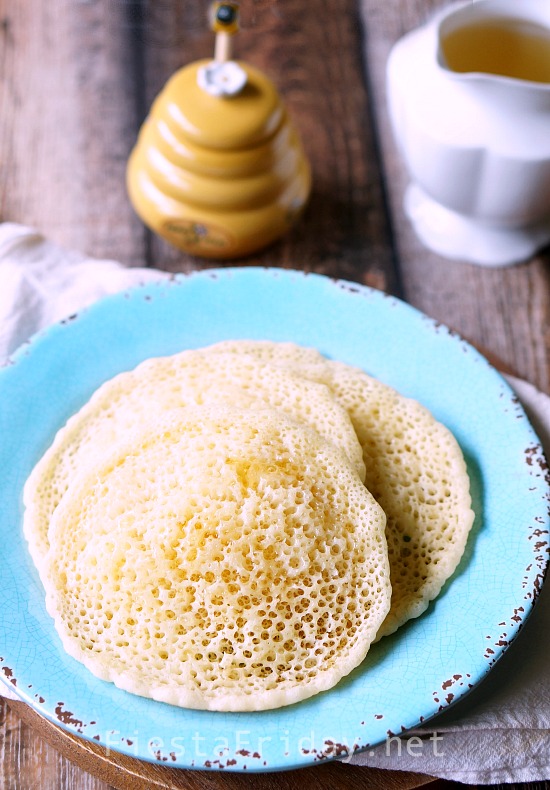 But to me, the better-than-best way to serve it is with chocolate sauce and banana flambé (banana rum sauce).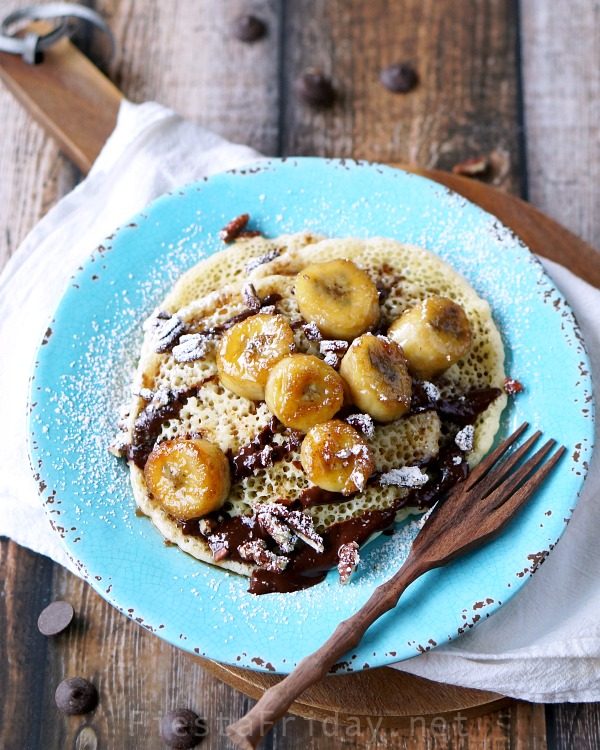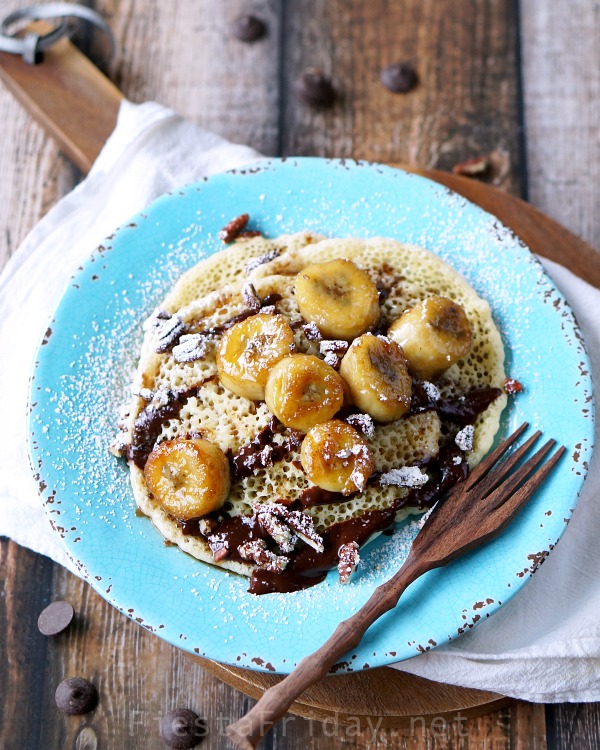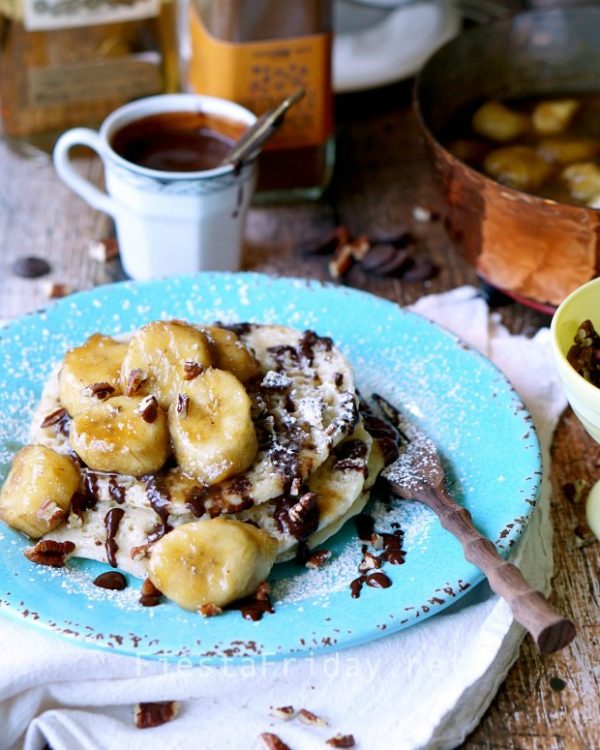 Boom! Mic drop!
***
This is adapted from a recipe from Saveur, which I thought needed more water. I also don't think you need to blend it for 10 minutes (I blended my batter for just a total of 4 minutes) or rest it for 2 hours (I rested mine for just 30 minutes).
I guess it depends on how powerful your blender is and how warm your kitchen is.
You can also substitute the semolina with all-purpose or bread flour. This is a forgiving recipe. With either flour, however, you will get less chewy (softer) pancakes.
Baghrir Pancakes with Banana Flambé and Chocolate Sauce
Dairy-free and eggless but yet fluffy, spongy, and soft, Baghrir can be a snack, breakfast, or dessert!
Author:
Angie | FiestaFriday.net
Recipe type:
Breakfast/Dessert
Cuisine:
Moroccan/North African
Ingredients
For the baghrir
1½ cups semolina flour
¼ cup all-purpose flour
2¼ cups warm water
2 teaspoons active dry yeast
½ teaspoon salt
2 teaspoons sugar
4 teaspoons baking powder
For the Banana Flambé
3 tablespoons butter
½ cup brown sugar
3 ripe but firm bananas
1 teaspoon vanilla
¼ cup rum
½ teaspoon cinnamon
Instructions
Combine all ingredients for the baghrir, except for baking powder, in a blender and blend for 2 minutes.
Add baking powder and blend for 2 more minutes. The total blending time depends on how powerful your blender is. You're looking for a smooth batter the consistency of a crepe batter.
Pour into a bowl, cover with plastic wrap and let it stand at room temperature for 30 minutes to 2 hours, or until batter is foamy.
Heat a small non-stick skillet over medium heat. No oil is needed, but if you find your pancakes sticking to the pan, you can rub the pan with a little bit of oil on a paper towel.
Pour about ¼ cup of batter (for a 5-inch pancake).
Cook without flipping the pancake, until there is no more wet spots on the surface of the pancake, about 2 minutes.
Serve with honey butter sauce or banana flambé and optional chocolate sauce and toasted nuts.
Banana Flambé
Melt butter in a skillet over medium-high heat, add sugar, and cook for about 2 minutes, or until sugar begins to caramelize, stirring constantly.
Cut bananas into bite-sized pieces. Add them to skillet, and cook bananas for 1 - 2 minutes until they're slightly browned, flipping once.
Remove from heat. Pour in rum, and carefully ignite the liquid with a long match. If you have a gas range, instead of using a match, you can tilt your skillet slightly to catch the fire. Let flames die down.
Return to heat, add vanilla, and cook for another minute. Sprinkle some cinnamon, then remove from heat.
Honey Butter Sauce
Combine equal amounts of honey and butter in a small saucepan and heat just until warm and butter is melted. Stir to mix.
Notes
This recipe makes about 16 5-inch pancakes.
Pin This!