Several times a day, I would say to myself…
Christmas is a few days away! DO SOMETHING!!
I think it's working. This is recently spotted at la casa de Angie…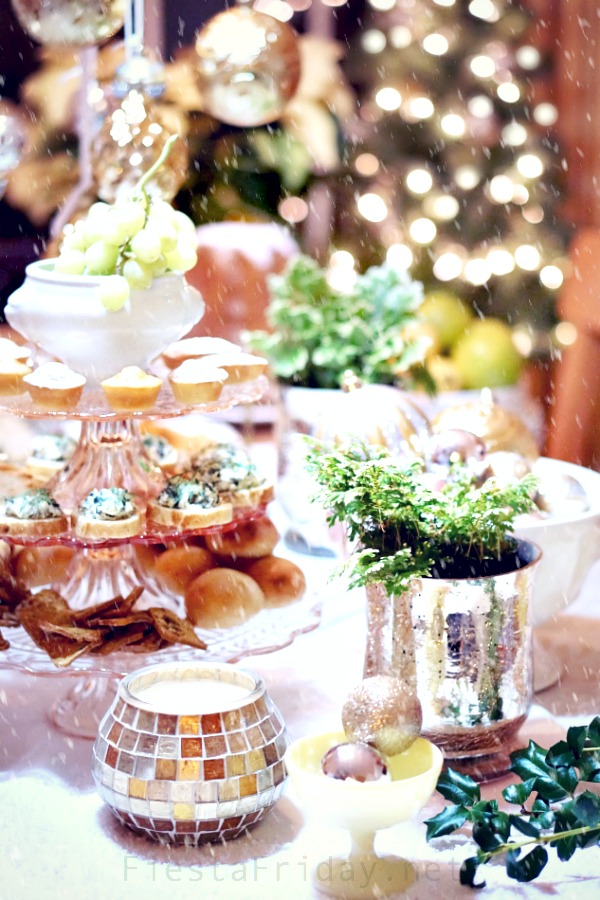 Christmas is finally happening around here!
??Merry Christmas, everyone, from my home to yours!!??
And because it's Christmas, I don't want anybody to worry about anything. We all need a break from cohosting, selecting features, and all of that; we're busy enough! Let's just relax and enjoy ourselves and our families.
Starting next week, though, I would need cohosts again, hehe…so let me know if any of you are up for it.
We'll also talk more about the Fiesta Friday Challenge. I've got some very good suggestions from many of you, and will try to finalize the plan and unveil it as soon as the holiday busyness is over. Stay tuned!
Now, Features!
Lemon Thyme Mini Christmas Cakes from Anjana @ Happy and Harried
"Much as I personally do quite like Christmas cake (at least the way my mum makes it), I can see why others don't. The flavors of these mini cakes are so very much ones I love and especially in the lovely photos, they do indeed make a bright, fresh antidote to your regular seasonal fair."– Caroline
White Chocolate Cranberry Cookies from Lily @ Little Sweet Baker
"Do you know a better combination than a warm cup of tea with some nice biscuits? If you think like me, this is a perfect match and this recipe is for you. These look delicious. Let's prepare them."– Tânia
Sweet Nut Holiday Bread Wreath from Hostess at Heart
"I know one of Julie's wreath breads was featured not too long ago, but really they are too pretty not to admire again. I love the sound of the flavors in this one too." — Caroline
Tofu Mushroom Matar from Swati @ Let's Cook Healthy Tonight!
"Have you ever thought about combining mushroom, tofu, green peas and tomatoes in the same vegetarian recipe? Swati did and I quite like the idea. Her dish just looks so yummy and healthy that I would like to try it."– Tânia
Hot Chocolate Marble Pound Cake from Jess @ Cooking is my sport
"Jessica's Hot Chocolate Marble Pound Cake looks so mouth-watering that I could not resist it and I've already added it to my to-do list in the kitchen. I'm looking forward to preparing it."– Tânia
***
Now, let's party! Join Fiesta Friday #151 by adding your link. Don't forget to link your post to FiestaFriday.net. We're all acting co-hosts this week. Please visit other links and keep the communication and discussion going!
If you're new to Fiesta Friday, please read the guidelines.
[inlinkz_linkup id=686252 mode=1]