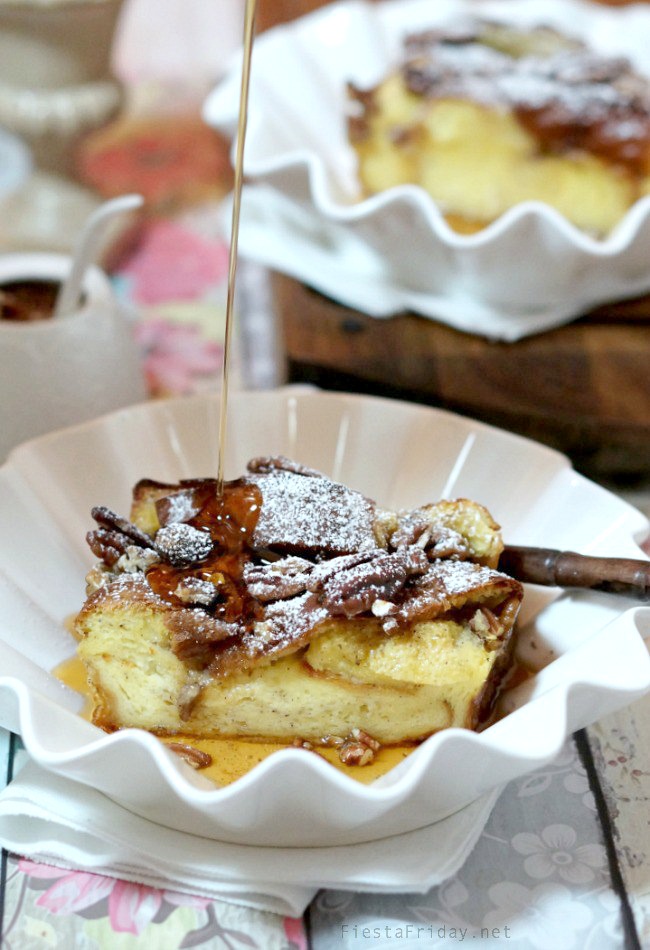 This French Toast Casserole is brought to you by the actual friends of Fiesta Friday. Well, that's a loaded word right there. ACTUAL.
Does it follow, then, that since they're ACTUAL friends, they are also REAL and TRUE? Discuss among yourselves!
Okay, just kidding, okay?
I love all my actual (read: non-virtual) friends as much as I love… butter.
Okay, okay, I love all my actual, non-virtual friends as much as I love you, my virtual yet actual friends.
Okay, this is all getting so confusing I can't figure out anymore who is actual and who is… butter.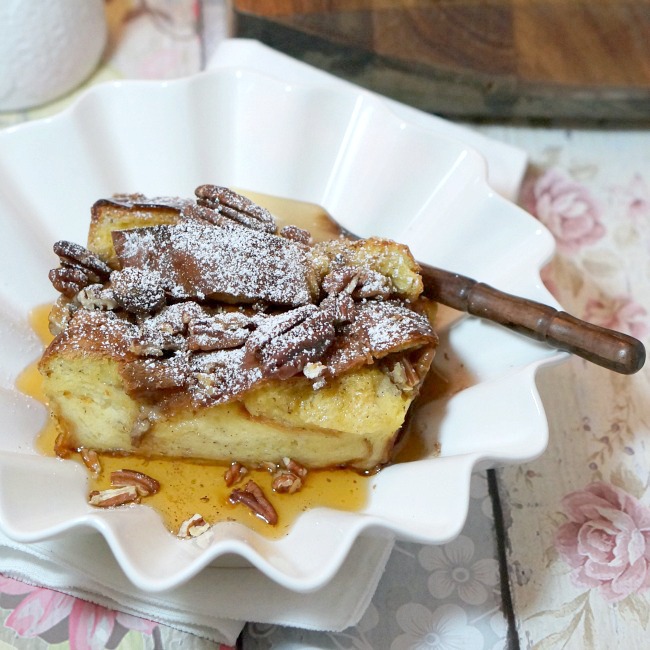 The point I was trying to make was, when I posted my Burrito Bowl recipe the other day, we were buried under 2 feet of snow.
More or less. Approximately. Just about. I didn't actually go out there and measure. I'm not a real snow scientist. I just play one on snow days. Please call an actual snow scientist to verify.
The real point is that when you're buried under 2 feet of snow, there's only one thing to do.
Make and eat French Toast Casserole!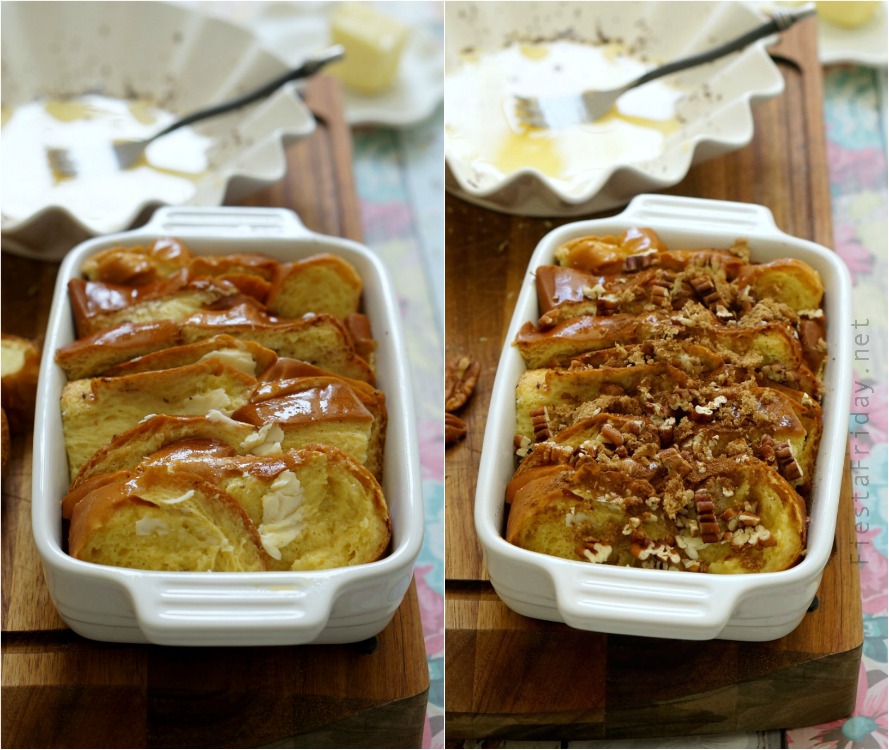 So, to show how much I love my actual friends, who wanted to know why I was posting Burrito Bowl in the middle of a snowmageddon, I'm sharing my easy, peasy, and might I add please-y FTC (French Toast Casserole, not Federal Trade Commission).
Here's how to make the French Toast Casserole
By the way, this is a skinny version of Epicurious recipe since Miss Kim (an actual friend) requested low-calorie recipes. Oh, Kiiyiim…are you reading? This is for you!
And I also made a much smaller casserole, for smaller appetites. Use a small 7 x 5 baking dish for this. It's so cute! Perfect for stormy days.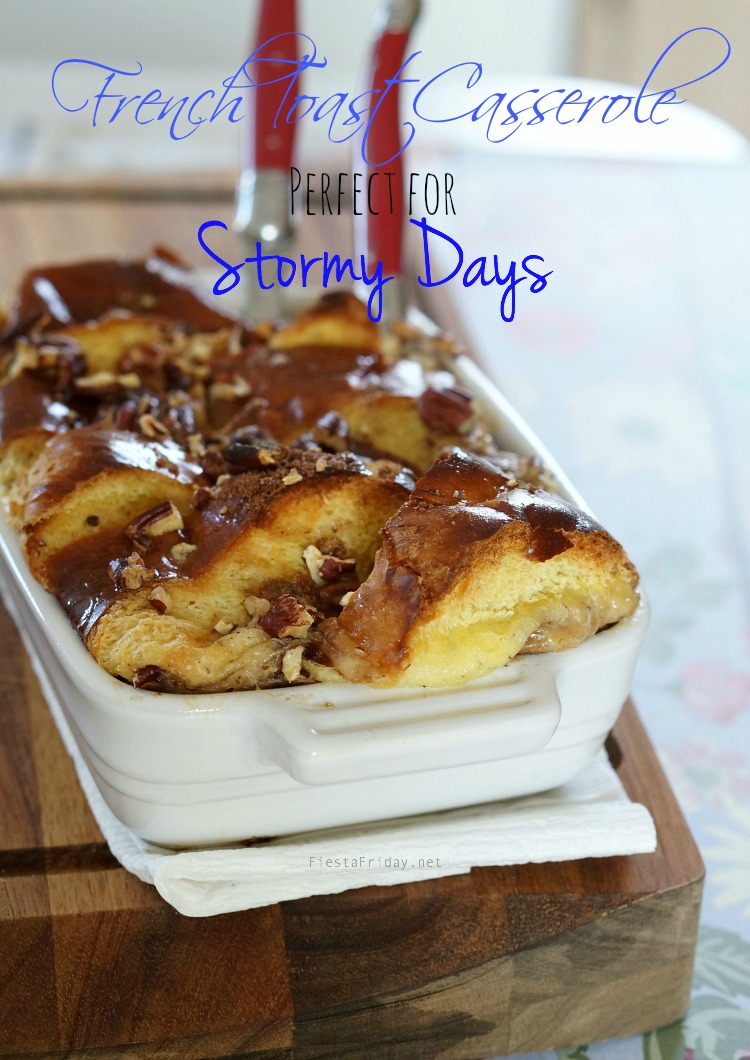 Also perfect for sunshiny days!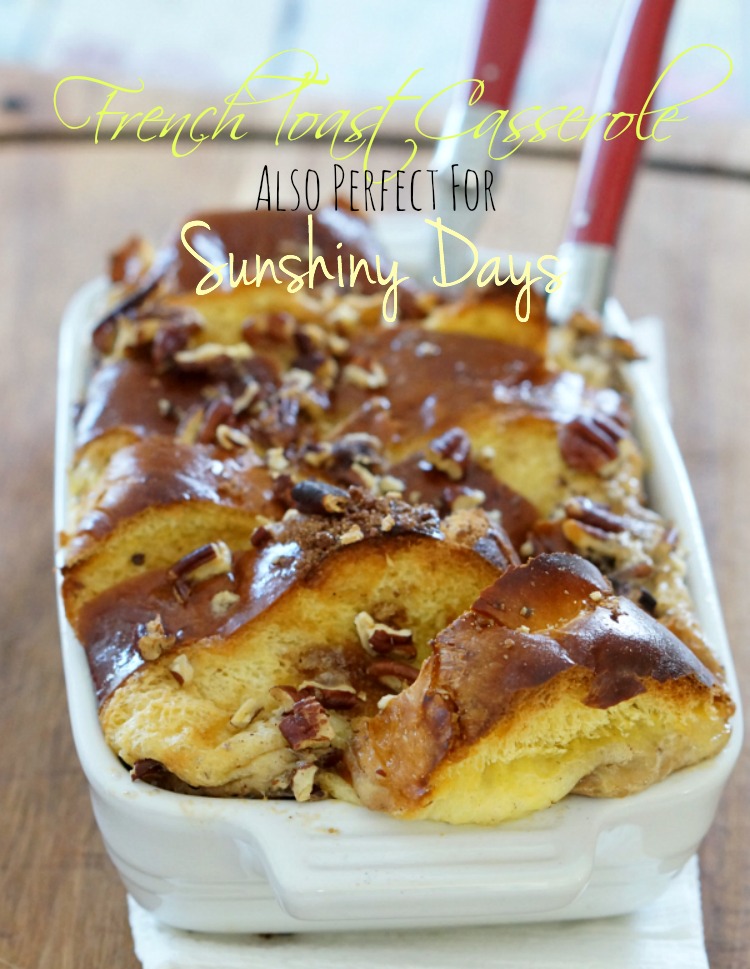 French Toast Casserole
Skinny French Toast Casserole for stormy days and sunshiny days!
Ingredients
⅓ of a 1 lb loaf Challah bread
2 large eggs
¾ cup 1% milk
2 tablespoons sugar (or substitute)
½ teaspoon ground cinnamon
½ teaspoon vanilla
2 tablespoons chopped pecan
1 teaspoon brown sugar
1 tablespoon butter (optional)
Instructions
Heat oven to 375°F.
Cut challah bread into ½-inch thick slices and small enough to fit your casserole dish.
Spray/Butter casserole dish.
Beat eggs and sugar in a wide-rimmed bowl. Add milk, cinnamon, and vanilla. Stir to mix.
Dip slices of bread into egg mixture. Arrange them to fit the casserole dish. Dot with butter here and there (optional).
Pour any remaining egg mixture over the bread.
Sprinkle brown sugar and chopped pecan.
Cover with aluminum foil, but not too tightly. Casserole will puff up during baking.
Bake covered for 20 minutes. Remove foil and bake for additional 10 minutes.
Serve with optional maple syrup and powdered sugar.
And for those who are not watching their diet (and I'm not even sure why Miss Kim feels the need to, to be honest!), a sprinkling of sugar wouldn't hurt.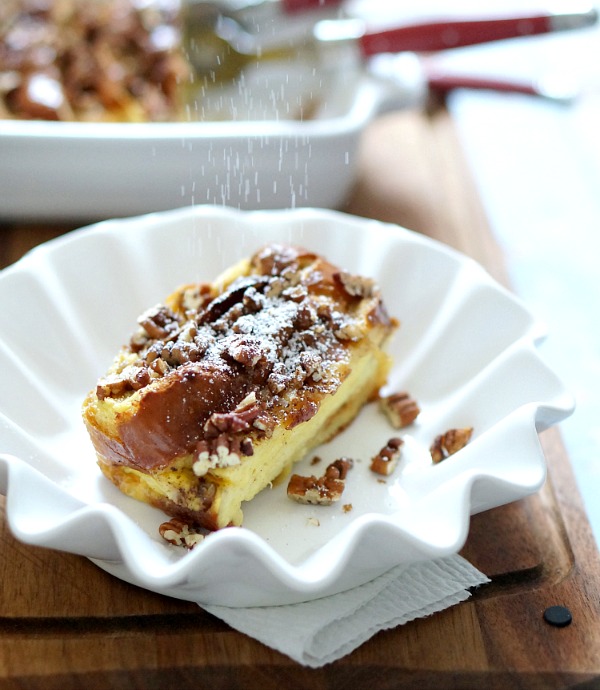 And a drizzle of maple syrup definitely helps!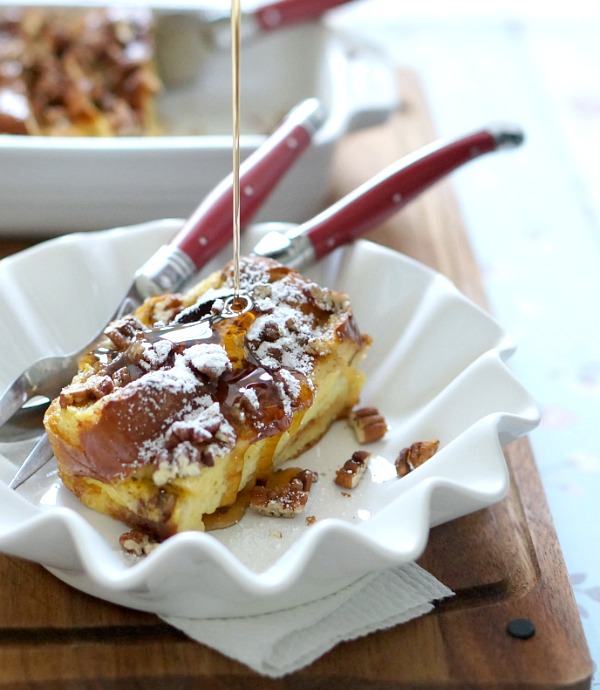 Pin to make later